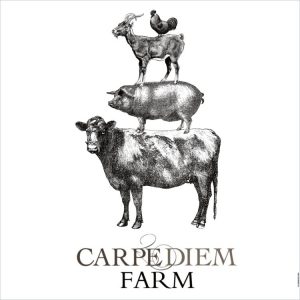 CLOSED FOR THE SEASON , RE-OPEN MAY 2018
Located on 170 fertile acres just north of Sunderland, Ontario, Carpe Diem Farm is the perfect pastoral pit stop for people who are as passionate about sustainability as they are about incredible food.
Carpe Diem Farm is the brainchild of Julie Belli, an award winning artisan cheese maker and tireless advocate of using organic practices to cultivate fresh local food. In addition to providing aspiring farmers with incubator plots to try their hands at the land risk-free, Carpe Diem Farm is also home to a farm shop, farm cafe, a classroom, a mixed orchard, greenhouses, and soon, a newly renovated cheese plant producing cheeses, as well as other quality dairy products.
Open 10 am till 5 pm (or when the sun goes down) every Friday, Saturday and Sunday from May through to end of October, Carpe Diem's ideally situated Sunderland farm, shop and cafe can be found nestled in the countryside almost exactly halfway between Toronto and cottage country. We're talking right on highway 12 –  no detours! This makes it a perfect place to pick up fresh local produce, enjoy mouthwatering treats and to connect with life's simpler pleasures.

SW corner Hwy 12 and Concession Road 10 in Brock north of Sunderland.