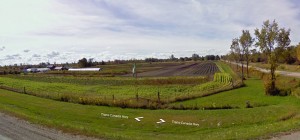 Carpe Diem Farm welcomes you, whether you can only stop in for a few minutes or can join us for a few hours.
Located just north of Sunderland on the south west corner of Highway 12 and the 10th Concession. The new entrance is on Concession 10.
Hours of business:
Friday-Sunday  10am - 5pm (or sunset!)
Seasonally May to October
drop us a line at info@carpediem.ca

SW corner Hwy 12 and Concession Road 10 in Brock north of Sunderland.